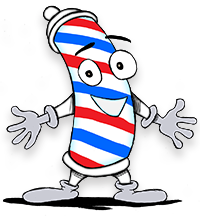 Due to the COVID19 pandemic and safe practice of social distancing we will be operating by a "no waiting" "appointment only" basis. Please look at the schedule to see which barbers are working at the desired time for your service. Pick the barber of your choice, call and set an appointment. Barber has no availability? No problem. Come to the shop and sign the walk in list and we will call you when it's your turn. Unfortunately you won't be able to wait in or in front of the barbershop we encourage you to wait in the car until called or do some shopping inside Meijer or at the neighboring stores. Thanks for your patience. We look forward to seeing you soon.
Call 708 425 0795 to make an appointment.
Here are some Frequently Asked Questions we get from our customers. If you don't see yours listed here, please contact us.
Can I set an appointment now for a haircut?
Yes. It is best to book your appointment 1-2 days in advance.



I need a haircut now can I come in?


Yes. If you don't have an appointment you will need to come in and sign the walk-in list and we will call you when your turn comes up. Unfortunately there is no waiting in the barbershop so you will have to do a little shopping or wait in the car until called.



It's my first time to the barbershop what do I need to do?


You will need to make an appointment. Look at the Barber schedule see the barbers working, call and set an appointment.



Do you perform hair-cutting services on babies?


Yes we do. We recommend the age of 2. Please keep in mind that some styles are very detail oriented and may not be conducive to younger kids patience level.



Do you accept Credit or Debit card?


Yes. For your convenience Stylz & Trendz does accept Debit and Credit cards. Please check with your barber 1st and make sure they will accept that form of payment.


What type of hair do you cut?
Straight, or curly we cut all textures of hair. At Stylz & Trendz we combine over 50 years of experience in the hair industry and we are confident we will be able to satisfy your needs.


Are you handicapped accessible?
Yes we are.