Our Professional staff is committed to deliver you the best haircut experience possible.  With our combined experience of over 70 years we are confident that we posses the skills to give you the best haircut.  A great haircut is everything but a great experience is priceless.  With that being said we thrive on satisfying our customer and believe that our customer service is unrivaled compared to many.  Whether it's making sure you are serviced in a timely manner, or spending the necessary time during the consultation period to make sure we're on the same page, or just a customary greeting upon arrival through our doors.  Stylz & Trendz will make sure you look and feel your best.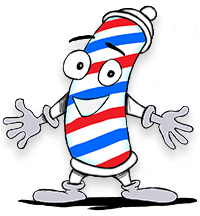 Marvin
Marvin Salonies has been Professional barbering for 20 years.  With my attention to detail and client needs I am confident I can deliver the haircut you deserve.  I specialize in haircuts for Men, Women, and Children but my specialty is "Fading or Blending".  To me a Fade just adds the smoothness to the haircut with its transitions from Dark to light. 
Marvin's Schedule
Sunday – Off
Monday – Off
Tuesday – 9am-5pm
Wednesday – 9am-5pm
Thursday – 9am-5pm
Friday – 9am-5pm
Saturday – 9am-5pm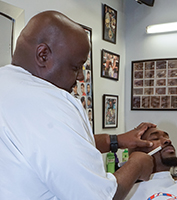 Immanuel
Immanuel West has been barbering and servicing clients for the last 15 years. My number one priority is keeping clients hair healthy and I stay up on all the latest styles. I specialize in low cuts, fades and precision blending.
Immanuel's
Schedule
Sunday – 11am-6pm
Monday – Off
Tuesday – Off
Wednesday – 11am-8pm
Thursday – 11am-8pm
Friday – 11am-8pm
Saturday – 11am-8pm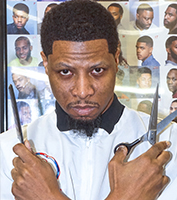 Will
"To me, a haircut is more than just a haircut. A haircut is an extension of our lives. And some of our greatest memories are accompanied with a good haircut. That's why it is my goal to use my 15+ years of experience and knowledge to give my clients haircuts that will give them confidence and feeling there best no matter if its Wednesday, the first day of school, or there wedding day."
Will's Schedule
Sunday – 11am-6pm
Monday – 10am-7pm
Tuesday – Off
Wednesday – 10am-7pm
Thursday – 10am-7pm
Friday – 10am-8pm
Saturday – 10am-8pm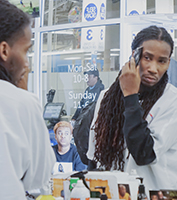 Brittany
Every day brings an opportunity to do something legendary. Enjoying my craft for 10+ years, I understand the significance of good service. Perfecting my work is my passion and your experience, so let's get faded.
Let them say it and be busy slaying it.
Clipper Cuts
Razor Service
Color Enhancements
Loc Maintenance
Brittany's Schedule
Sunday – 11am-6pm
Monday – 3pm-close
Tuesday – open-12:30pm/ 3pm-close
Wednesday – open-12:30pm/ 3pm-close
Thursday – open-12:30pm/ 3pm-close
Friday – By Appointment only. Spa Service upon request.
Saturday – Off